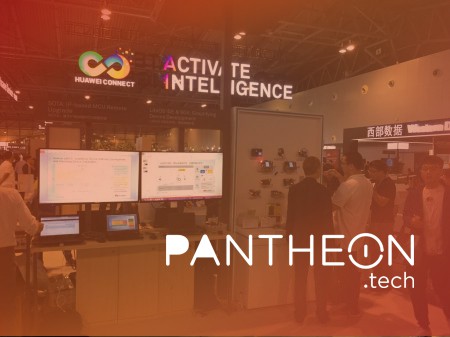 PANTHEON.tech visited Shanghai last week to attend the third annual Huawei Connect event ¹. Let us share some insights from the event.
This year's theme was Activate Intelligence and Huawei outlined its broad strategy to bring artificial intelligence (AI) to the masses in applications in manufacturing, autonomous driving, smart cities, IoT and other areas which will enable billions of new devices to be connected and transfer big data over the network.
The conference was held in Shanghai, China, at the Shanghai World Expo Exhibition Center. Huawei has put a lot of resources and effort into organizing the event which has shown its direct impact on over 26,000 in the attendance. The conference was organized perfectly, to the last detail (exhibition areas, keynotes and conference area, chill-out zones, etc.).
We have witnessed the demonstrations of "smart" technologies ranging from smart city applications, smart education, smart transportation, smart everything…

One of the most impressive technology demonstrations was an AI that was able to translate Chinese to English and vice versa, as good as a human translator could. Microsoft in cooperation with Huawei states ² "Internal tests have shown, depending on the language, up to a 23 percent better offline translation quality over competing best-in-class offline packs."
Huawei is also building an AI ecosystem ³ ⁴ ⁵ of partners that is targeted to exceed 1 million developers over the next three years with US$140m. 

We have had some interesting meetings with Huawei's representatives. It was very pleasant to learn about Huawei's visions for the near future and we are glad to share the same vision for an exciting future. Huawei invests heavily into researching new technologies such as AI, IoT, and others to define practical use-cases that can be deployed into their product's portfolio.
PANTHEON.tech as a software development company is strongly focused on computer networking which is related to the Huawei's vision to integrate AI into managing network operations ⁶ ⁷.
Mr. Yang Jin  Director, Network Data Analytics Research  Huawei Technologies Co., stated: "Artificial Intelligence and Machine Learning will abstract data to make next-generation communication breakthroughs come to life."
Feel free to contact PANTHEON.tech if you have any interest in any of the AI, AR/VR, IoT, Intent Driven Network, SDN, NFV, Big Data, and other related areas. We can talk about challenges and how can we solve them together.
Technical Business Development Manager
PANTHEON.tech
---
Additional readings mentioned in this article.