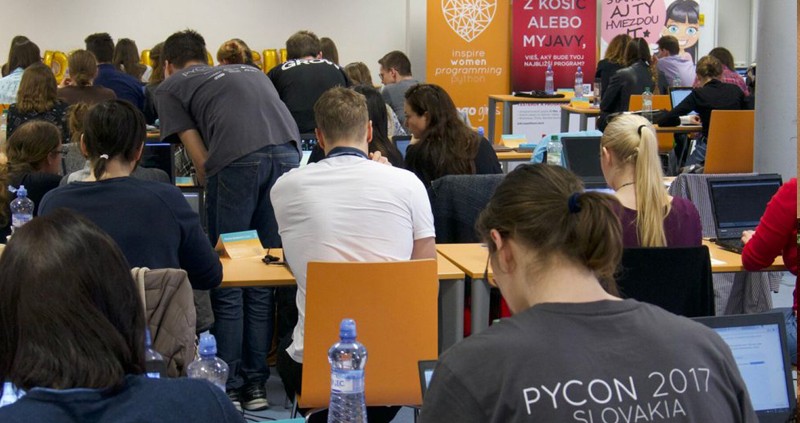 The PyConSK 2017 conference took place at Slovak University of Technology's Faculty of Informatics and Information Technologies in Bratislava over the weekend from March 10th to 12th.
First day & its challenges
The first day, the Slovak Day took place. The presentations in the large auditorium were focused not only on Python, but also on Robot Framework, artificial intelligence, Open Data, e-government and many other topics. Presentations in the Small auditorium discussed education, elaborating on best practices in teaching Python at high schools.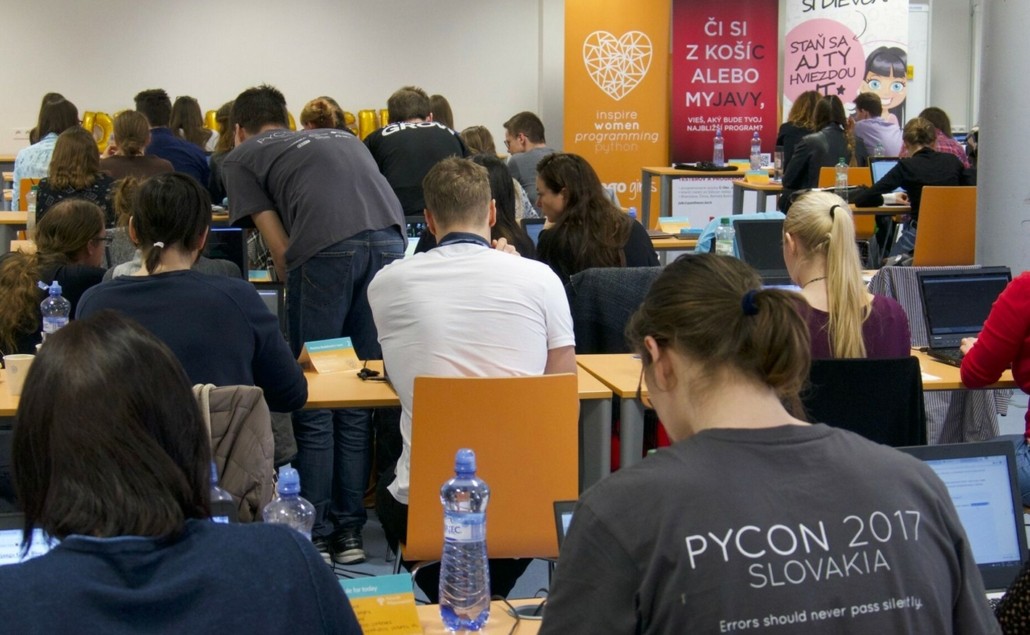 The presentation "Alternative Methods of Running Tests and Evaluation of their Results" gave a good insight into using test suites and their interpretation. Another interesting presentation was "Custom Python Libraries for Robot Framework," which was an inviting introduction to Robot framework for beginners. Another two presentations caught our attention: the first one, by Exponea's Jožo Kováč, was rather more serious.
In "How can Artificial Intelligence in Python Help a Company Grow?" he gave examples of AI's benefits for e-commerce. The second one, and also the last presentation of the first day, was the funniest of the whole conference. Speaker Michal Kaukič shone out from others by his excellent sense of humor on the topic, which was otherwise boring – "Graphics in Jupyter Notebooks." He did not give us much opportunities to fall asleep, as twenty per cent of the time the whole auditorium was laughing.
Second day & Django Girls
Saturday's presentations were mostly in English. The first one was given by Pavel Serbajlo: "What Makes Silicon Valley Software Developers Special?" Since he spent over 4 years in the USA, he knew what he was talking about. It was interesting for all of us to hear what the values in Silicon Valley are, how people work, communicate, commute and how they live.
Other two presentations, "Making Monitoring Boring" and "Building Data Pipelines with Python" were presentations which I definitely wanted to hear due to personal interest in data mining and Linux administration.
The lunch break was a perfect time to establish new contacts, or simply talk to each other while enjoying a great meal. There were several sponsors booths representing RedHat, Fedora, Mozilla, Exponea, Kiwi, Eset, Kistler and others.
After the lunch break, I attended an interesting presentation, "From Code to Community," which was focused on a community and its ability to organize not only smaller meet-ups, but also bigger conferences like PyCon.DE. The last speaker that day, Adrian Holovaty, co-BDFL of the Django web framework, had a humanely-focused speech about the community aspects of open source.
On the event's third day, Sunday, I briefly visited the Django Girls workshop and shortly after that I went to Code Analysis with Coala sprint. I did not know much about Coala, so I really appreciate that I could learn something new about this great open source project helping developers improving their code quality.
Two presentations in the large auditorium were interesting for me as well. In "Object Calisthenics," Pawel Lewtak discussed nine steps leading to a better code. He showed us how to use nine rules called Object Calisthenics in order to write the code shorter, more precise, easier to read and easy to test. At "Automating Network Equipment with Python," by Elisa Jasinska, we could learn about automated access to devices by Cisco, Juniper, Arista and others.
I can recommend such a great conference, as PyCon surely is, to all Python enthusiasts. Videos from the event can be found on YouTube.
Ján Hradil
Software Developer