PANTHEON.tech has participated in the following OpenDaylight projects:
| | | |
| --- | --- | --- |
| YANGTOOLS | RESTCONF | GROUP BASED POLICY |
| MDSAL | BGP/PCEP | VBD |
| NETCONF | CONROLLER/CLUSTERING | SXP |
| DLUX APPS | OPENFLOW PLUGIN | CSIT |
I've spent almost twenty years building network technologies, from simple network elements to self-organized distributed systems. I have greatly enjoyed contributing to the projects connected to the Maven build system, overall architecture and high level design: BGP, PCEP, OpenFlow Boron design, Virtual Bridge Domain, as well as performance- and stability- critical pieces of infrastructure.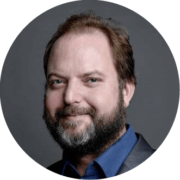 –Robert Varga
PANTHEON.tech Fellow
PANTHEON.tech
About Robert Varga
Robert has been involved in OpenDaylight from its start, having co-authored the MD-SAL architecture and designing major portions of its implementation. He has served as PANTHEON.tech CTO for over 10 years, seeing the company's rapid grow to 120+ engineers.
Having contributed almost 13% of all patches merged, Robert is the sole top OpenDaylight contributor. He is also a member of the ODL Technical Steering Committee and a committer to a wide range of projects: odlparent, YANG tools, MD-SAL, bgpcep, TCP MD5, VBD, infrautils and coretutorials.
Robert's past contributions include the in-memory datastore, which boasts 100x performance advantage over available YANG-based datastores. His latest area of focus is Clustered Data Store.
We are part of
&

support the following organizations